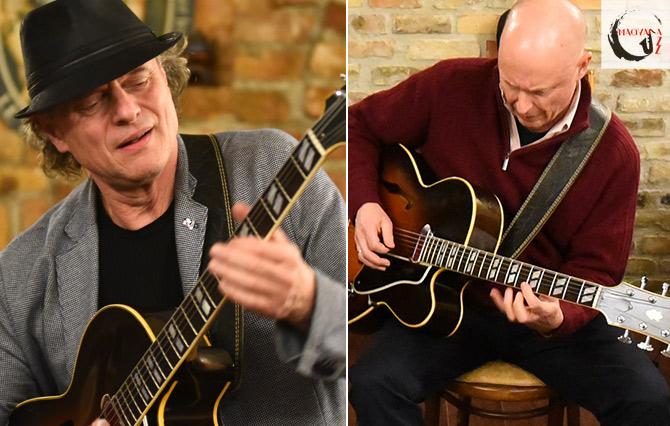 He was also interested enough to listen to all the way through the concerts at the Müpa Jazz Showcase on the spot where we arranged an interview concerning his forthcoming gig on Thursday.
MagyarJazz: I only introduced you very briefly in the lead-in. What else would you highlight about your work?
Martien Oster: I have been teaching guitar at the Amsterdam Conservatory for 18 years where I've also had Hungarian students. Three years ago I recorded 'Handshake' with the legendary pianist Harold Mabern. Mabern was the accompanist during Wes Montgomery's only European tour in 1965 so I am one handshake away from Wes Montgomery ;-)
MagyarJazz: Although you came to Hungary not as a musician, but as a parent, you are beginning to have an idea of the state of jazz in Hungary. How do you feel here, in Hungary? What are your first impressions of the country?
Martien Oster: I am delighted to be here; my wife is half Hungarian so we have been touring the country for the last 20 years. Her family has been involved in farming in the South in Hungary. Now I got to know Budapest better, it's such a vibrant city and this reflects in the music.

 

MagyarJazz: You play and teach regularly in Holland and Germany scenes. What differences do you see between the jazz scenes of these three countries?
Martien Oster: I feel very strong roots here. Probably because the whole gamut of East European musical influences are aligned so well with the Afro-American 'Jazz' experience. That opens a wealth of musical sources that everybody here seems to tap into. Of course that is not the case in the Netherlands and Germany, although the influx of students from all over the world in Amsterdam is creating a big melting pot. I also noticed that the audience is very attentive and appreciative in Hungary, which is really nice to play for.

 

MagyarJazz: As far as I know, you are thinking of staying in Budapest after your son's studies are finished here. Why did you decide that?
Martien Oster: I decided to stay another 3 months to check out the whole scene because I am very inspired by hearing all these talented musicians over here. For instance I have been visiting the three days of the Müpa Jazz Showcase and I am astounded by the level of proficiency of the young musicians.
MagyarJazz: You will perform in one of the most family-friendly jazz clubs in Budapest on Thursday at the invitation of István Gyárfás. How long have you known each other with Gyafi?
Martien Oster: One of the positive aspects of Facebook is that you are connected with musicians all over the world. Istvan and I have been Facebook friends for a couple of years. I heard immediately that Istvan is a very gifted guitarist, so as soon as I got here I contacted him and he very generously invited me over to play on a few of his gigs.

 

MagyarJazz: What kind of gig are you planning at the iF Jazz Café on February 10th?
Martien Oster: We will be playing in quartet with a very swinging rhythm section with Márton Soós on bass, Balázs Cseh on drums, Istvan and myself. The repertoire will be mostly Standards and Jazztunes.
I am looking forward playing at this very cosy place where there is Live-music every day!
 More information:  https://www.facebook.com/events/263350849246211/
Fotó: Lázár Miklós