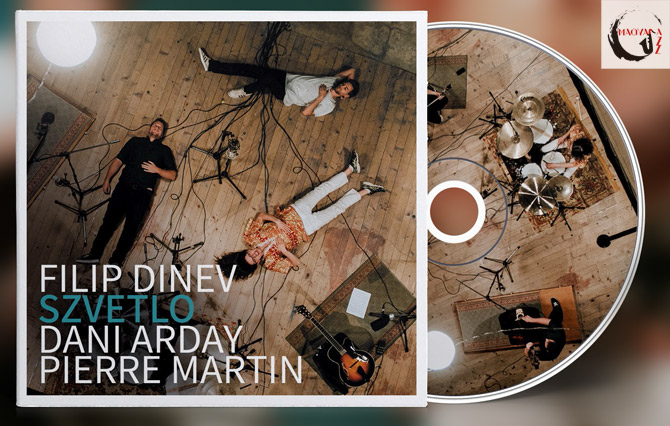 In 2019, the last time we reported on the final exams and diploma concerts of Liszt Ferenc Academy of Music, we heard guitarist Filip Dinev play his own composition, "Budapest". Since then, he has been living and working in Germany. Recently, he had an album released with two of his fellow students from the university, namely the Franco-Hungarian Pierre Martin, who studied jazz drums in Hungary with an Erasmus scholarship and the Hungarian bass player, Dániel Arday. What comes to mind when I first listened to this album? Intelligent, interesting, exciting sounds, with a good rhythm section behind the professional guitarist, and the drummer time to time steps out of the "only" accompaniment role.
I asked Filip Dinev about the album, his years at the Academy of Music, and the future.
MagyarJazz: It is a great pleasure when students studying here in Hungary can build a relationship that later becomes a working relationship. Do you keep in touch with more fellow students? Why did you work together on "Szvetlo" with Dani Arday and Pierre Martin?
Filip Dinev: I couldn't agree more, being part of the Budapest community and the international world was a blessing. After we made the new album, I have become even more sentimental about the city. I miss the people, the concerts, jogging around the Margitsziget and shopping at the classic Lehel Market.
Of course, we still keep contact with people from the Academy. Actually, we were all invited to a lovely wedding to a dear friend of ours this August, but due to the lockdown, we weren't able to come. Visiting Budapest and friends is always a good idea.
"Szvetlo" just happened. We are just grateful it did. We didn't know what to expect when we started playing, but things started to develop slowly and we've recognized the audience's appreciation on our concerts. That ensured us that we should make a record. Dani and Pierre were super helpful and positive about it.
MagyarJazz: The album contains several titles in Hungarian. Are all the tracks your own compositions? Why did you choose "Budapest", the song that I had heard before and which has such a unique sound that as soon as I heard it, I knew it had also been played at the graduation concert. Why are "Vonatok" and "Magmagyarázhatatlan" the other two titles? I have an idea about the "Megmagyarázhatatlan", maybe you chose it because it's unpronouncable?
Filip Dinev: The new "Szvetlo" album contains 6 original compositions, 1 jazz standard and 1 film theme arrangement. I am responsible (guilty) for 5 original tunes, and Pierre Martin wrote "Magmagyarázhatatlan". I am very humbled that you recognized "Budapest", after a relatively long time. Honestly, it is still one of my dearest pieces to play, and the one that I associate the most with the beautiful Budapest. I wrote it the first days when I moved to my apartment - I guess the high aristocratic feelings and the empty room made that first chord ring more than it should! That got me, haha! On the opposite, "Vonatok" was written during my last days in Budapest. I should've taken a long train to Hamburg those days as well, I think that triggered something. Actually, I am very sentimental about the public transportation in Budapest. I miss the trains and even the 4/6 tram! Haha, I still remember how packed-up it was the night on December 31. I wonder what would Pierre say about "Megmagyarázhatatlan". I can only say that I still have real problems pronouncing the title. For me, it's definitely something "inexplicable".
MagyarJazz: The name of the trio and the title of the album is Szvetlo. What does it mean? And why did you name it?
Filip Dinev: "Szvetlo" derives from the Macedonian/Balkan word "Светло/Svetlo", which means "Light". I just proposed a couple of names, and Dani and Pierre picked this one. Of course, we all like light.  I am a firm believer in goodness, kindness, moral values and a bit of stubbornness, for the sake of the good. We all need a bit of light in our lives.
MagyarJazz: Where did you record the music? Did you record it before the coronavirus pandemic? And did you work on it during the quarantine? All three of you together?
Filip Dinev: I am humbled to say that we recorded this audio/visual project in a small ex-Yugoslovenian theatre in my hometown - Gevgelija, in Macedonia. Having Dani and Pierre in my hometown was a blessing! They definitely tasted some delicious traditional recipes, and we even allowed Pirre to eat homemade fig marmalade with white cheese. Being a half-French, it's permissible I guess... We did this end of September 2019, nearly 3 months after I left Budapest, and 1 week before I left to Hamburg.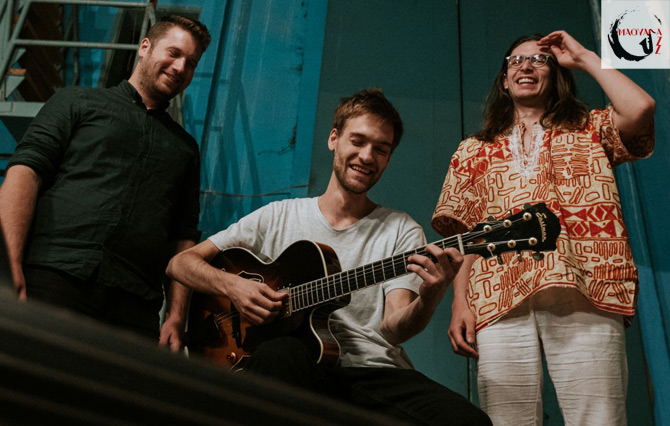 MagyarJazz: Returning to your university year, you came to Budapest for two semesters, didn't you? I've checked the article and saw that you even played in a big band. What experiences did you have here in Hungary? Who were your teachers?
Filip Dinev: Exactly, I lived almost a year in Budapest. I am ever grateful to the LFZE and the whole Jazz department, especially to our ever-inspiring teachers Juhász Gábor, László Attila, Bacsó Kristóf, and all the others who very unselfishly inspired us to progress and welcomed us most warm-heartedly. We are ever grateful and inspired. At the exam concerts at the BJC we felt like a family. Very interestingly, we went out a lot, we played, practised and cooked a lot. Lots of new people and true friendships were made. It was kind of crazy and productive at the same time.
MagyarJazz: Can you tell us a little bit about the situation in Germany now? How much help do you get as an artist? 
Filip Dinev: Currently, there are no live concerts allowed, and this is expected to last at least until the end of December. Most probably more. But, Germany set aside quite a big portion of finances for artists and freelancers hit by the Corona crisis. In fact, around 50 billion (50, 000, 000, 000) euros for already working musicians. For students it's tricky... There are currently a couple of foundations and funds also offering support. All of these things really helped artists, especially if you are working there. I really hope the rest of European countries follow this example. For foreign students it is always a bit difficult to understand how things work, but there are still opportunities.
MagyarJazz: And what now? In 2019, you had concerts at the iF Café in Budapest and other places. This interesting international jazz trio - with Balkan, French and Hungarian sounds- is in a difficult situation nowadays because of the lockdown. Are you planning next year, when the borders open up, to go on tour?
Filip Dinev: We want to come to Hungary again in 2021! We already played in jazz clubs in Budapest, Debrecen and Szeged, and we are making efforts to do a tour in Hungary in 2021 and present our new material. Our goal is to do small tours in Hungary, Macedonia, Germany and France as a starting point. We already have a couple of dates for Denmark, Germany and France. Honestly said, it is very difficult and uncertain to organize now, and artist need help.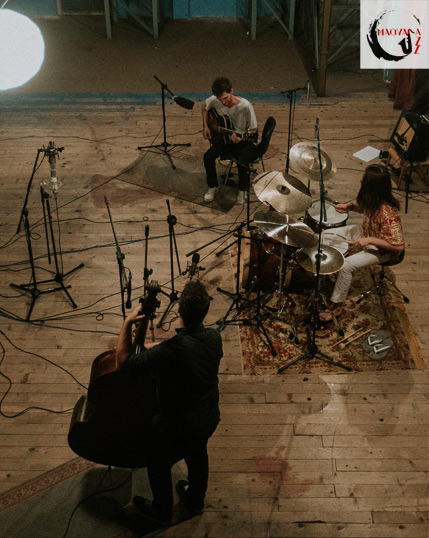 MagyarJazz: What do you do in Germany? What bands are you in?
Filip Dinev: After I left Budapest, I got accepted at the Dr. Langner Jazzmaster programme at the "Hochschule für Musik und Theater - Hamburg". I am currently doing my master studies there. Speaking of bands, I have my own trio here and play in a jazz quartet named "Harrison's Quartet", and some other projects in development. Trying to get in a foreign country's music scene is never easy, and takes a lot of patience and time. 2020 cancelled a lot of opportunities, and we hope to make up for it in 2021.
MagyarJazz: Are you planning more albums with international collaboration?
Filip Dinev: Certainly yes. I am already working on some new material, and when the time comes, I hope to deliver a new album. But for now, please listen to this one, haha! :)
Photo: Filip Dinev